Meet and Greet
This yearly gathering is open to all members and provides playwrights a chance to meet collaborators, share ideas, and fill up on some good food.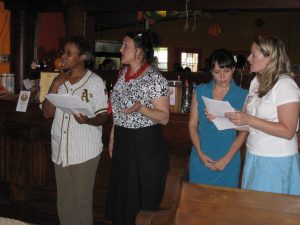 The Salon
The backbone of ScriptWorks, the Salon provides a place for playwrights to hear their work in an informal setting. Monthly salons feature unrehearsed readings of finished plays or fragments from plays-in-progress by members and are followed by writer-driven discussions with fellow ScriptWorks members. Austin Salons usually occur on the last Sunday of the month at 6:30 PM. Members must have attended two salons before they can have one scheduled for their work. Prospective members are welcome to attend a Salon before joining.
Member News
This is the information you need to know. Sent to all members via email, ScriptWorks' weekly newsletter includes announcements of upcoming events, member awards and productions, submission opportunities and other items of interest.
Dramatis Personae
ScriptWorks presents workshops and symposiums given by leading theatre professionals and playwrights visiting the Austin area. Previous guests include Erik Ehn, Megan Monaghan, Liz Engleman, Naomi Iizuka, Ruth Margraff, Sherry Kramer, Jennifer Haley, Amparo Garcia-Crow, Rodrigo Duarte-Clark, Octavio Solis, Kirk Lynn, Caridad Svich, and Steven Dietz.
Weekend Fling
Affair, liaison, bed-hopping–whatever you choose to call it–sometimes a fling is just what a writer needs. In this fall event, members spend 48 hours writing 10-minute plays based on an arbitrary set of rules. Selected plays are produced in the spring Out of Ink Festival. Held every November.
Out of Ink
Selected plays written during the Weekend Fling are presented in a showcase production. An annual event held every Spring.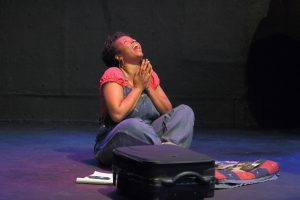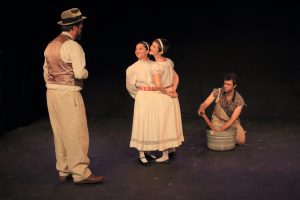 FronteraFest
Featuring over 800 performers from all over Austin, the state of Texas, and the United States – FronteraFest is five weeks of alternative, offbeat, new, and just plain off-the-wall fringe performance you don't want to miss.
Co-produced by Hyde Park Theatre and ScriptWorks, FronteraFest features the Short Fringe (for pieces up to 25 minutes), the Long Fringe (for pieces 45-90 minutes), Bring Your Own Venue (for site-specific work), and Mi Casa es Su Teatro (works performed in homes all over Austin). Applications are accepted on a first-come, first-served basis and are available in August with a deadline of November 1st. The festival occurs annually in January and February.
Complete information is available at http://www.hydeparktheatre.org
FronteraFest Commissions
Tired of not getting produced? Produce it yourself! ScriptWorks gives four, one-act commissions (up to $250) to members for production in the FronteraFest Short Fringe. The deadline for commission applications is in September.
The Groundwork Grant
What do you need to get started? Travel for research? Translation services? Devising time with actors? The Groundwork Grant can provide that and more through funding of up to $500 for work at the beginning stages of creation. Grants are usually awarded quarterly but this program is on hold pending the resolution of City of Austin arts funding.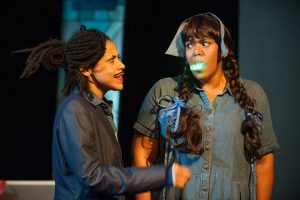 The Revision Resource Fund
This fund is intended to support existing projects in development with support up to $500. Funding can be used for a range of project needs including research, travel, workshops, and collaborations with actors, directors, dramaturgs, or other creative team members. The funding is usually awarded quarterly but this program is on hold pending the resolution of City of Austin arts funding. 
Head-2-Head
Trouble-shooting is never easy, especially alone. This ongoing program provides playwrights the opportunity to put their heads together with a ScriptWorks dramaturg to untangle wires and spark new ideas.
Fiscal Sponsorship
Umbrella services that allow members to apply for grants or raise funds from individuals using ScriptWorks' non-profit status.
Finer Point Fund

When appropriate, ScriptWorks may give financial support to a local theatre producing a world premiere of a member's play. The production is held to the Dramatists Guild Bill of Rights assuring the writer mutual approval over artistic decisions.
Script Exchange
One of the biggest challenges facing playwrights in the central Texas region is getting their work into the national theaters. To address this, ScriptWorks promotes members locally and nationwide through our website and provides recommendations for script submissions to professional theaters and agents upon request and review.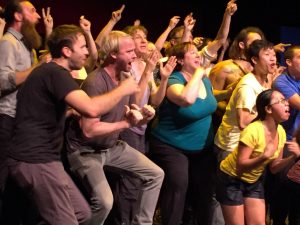 The One-Minute Play Festival
We partnered for five years with the national One-Minute Play Festival on an annual offering of 60-70 one-minute plays. We're hoping to be able to do so again, post-pandemic.