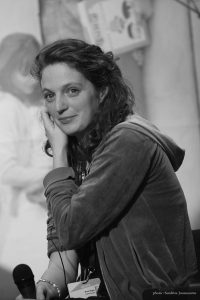 FOUND STORYTELLING WORKSHOP
telling global stories on a shoestring budget with Micah Magee
Wednesday, March 7th, 7-10pm
The State Theatre, 719 Congress Ave.
COST: $20 ScriptWorks members/ $30 General
INFO/RESERVATIONS: info@scriptworks.org; 512-454-9727
ABOUT THE WORKSHOP:
In this three-hour workshop, participants explore the narrative material of self and environment through place, memory and improvisation – using both fiction and documentary as storytelling material.
How to structure a found story? We will explore our seed stories through archetype, fairy tale and macro-dramaturgical analysis of time, character and place. Stories will be further developed through partner writing, acting exercises and improvisation in the group.
ABOUT MICAH MAGEE
Micah Magee is an award-winning writer and filmmaker based in Berlin, Germany and Troy, New York. In the past, Micah has worked as co-director of Cinematexas Film Festival, pirate radio programmer and (currently) full-time mom. She holds two undergraduate degrees from UT Austin (B.A. Plan II Liberal Arts/B.S. Film Production) and attended graduate school in directing at the German Film and Television Academy in Berlin. She has taught writing and filmmaking in Berlin, Istanbul and the Ukraine. Micah has received a Fulbright Award in Journalism, a screenwriting fellowship from NYFA and an individual artist grant from NYSCA. Her latest film HEIMKOMMEN can be seen this year in competition at SXSW.