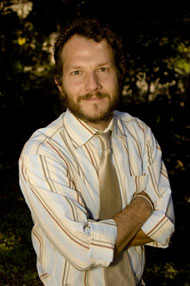 MISTAKES I AM CURRENTLY MAKING
Tuesday, May 7 8-10pm
Off Shoot (east end of the Off Center, 2211 Hidalgo)
$20 ScriptWorks Members/ $35 General
Email christi@scriptworks.org to reserve your spot!
Kirk Lynn will share a handful of his current writing practices for your own uses and abuses, including: writing plays without actors without words without anything, fixing Shakespeare, and prayer.  He's only got two hours of talent to share, so don't be late.
Kirk Lynn lives in Austin, TX with his wife, Carrie Fountain, and their daughter, Olive Lynn Fountain. Kirk and Carrie are expecting a new baby boy in late May. Kirk writes plays, generally with the Rude Mechs theatre collective. He is one of six artistic directors for the Rudes. Kirk is the Head of the Playwriting and Directing Program in the Department of Theatre and Dance at the University of Texas at Austin. In Spring of 2014 Kirk's play YOUR MOTHER'S COPY OF THE KAMA SUTRA will be produced at Playwrights Horizons in NYC, directed by Anne Kauffman.