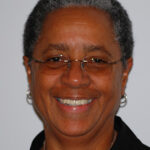 A Dramatis Personae workshop with Caleen Sinnette Jennings
Monday, November 14th, 7:30-9:30 PM CST Online via Zoom
Cost: sliding scale, $15-$40
Register HERE
At some point, every writer faces one or more of these challenges:
You want to write, but don't know what to write about
You know what you want to write about, but you don't know where to start
You've started writing but you've run out of steam.
This workshop offers lots of creative and practical ways to get started, overcome obstacles, and finish a first draft.
CALEEN SINNETTE JENNINGS is an actor, director, playwright, and a founding member of The Welders, a D.C. Playwrights' Collective. Dramatic Publishing Company has published eight of her plays, and her work has appeared in seven play anthologies. Caleen has received playwriting awards from the Kennedy Center and The Actor's Theatre of Louisville.  In April 2022, her play QUEENS GIRL IN THE WORLD had an off-Broadway run.  The other two plays in her QUEENS GIRL TRILOGY (QUEENS GIRL IN AFRICA and QUEENS GIRL: BLACK IN THE GREEN MOUNTAINS) have been performed at Mosaic Theatre in Washington D.C. and at Everyman Theatre in Baltimore, M.D.  Arena Stage commissioned her to write monologues for two pandemic-related Zoom plays: MAY 22, 2020 and THE 51st STATE.  She wrote the final episode for Round House Theatre's zoom series, HOMEBOUND.  She was commissioned by the Kennedy Center to write a stage adaptation of Walter Dean Myers' novel, DARIUS & TWIG, which was produced at the Kennedy Center Family Theatre and did a national tour.  She is currently writing the book for a new musical on the life of famous black contralto Marian Anderson and working on a commission from Arena Stage.  Caleen is Professor Emerita of Theatre in the Department of Performing Arts at American University in Washington, D.C. where she taught playwriting, among many other theatre courses, for 31 years.  She has been a workshop teacher for Kennedy Center's Intensive for over 20 years. Jennings has her B.A. in Drama from Bennington College, and her M.F.A. in Acting from NYU Tisch School of the Arts.