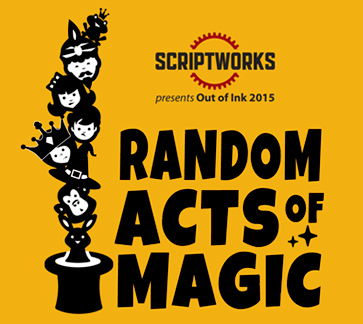 ScriptWorks 17th Annual Ten Minute Play Showcase
Hyde Park Theatre, 511 W. 43rd St.
April 23-25 and April 30-May 2, 2015 at 8 PM
Tickets:  $15 general admission, $12 students/seniors/ScriptWorks
April 23 is a Pay-What-You-Wish preview
The magic of theatre can lead to unexpected changes and sometimes to reliving special moments from the past. That is especially true in this year's Out of Ink ten-minute play showcase, which features plays written using those ideas as their jumping-off point. The plays were written during ScriptWorks' Weekend Fling, where members have 48 hours to write 10 minute plays using three arbitrary ingredients.
This year's elements were:
1) A piece of magic.
2) Two characters must switch clothes/costumes at least once during the play.
3) A character must revisit the most embarrassing day of their life.
At the end of the Weekend Fling, the plays were read in a ScriptWorks Salon at the State Theatre.  A selection committee picked eight of the plays for production in Out of Ink. The selection committee included Dallas-area director Elizabeth Martin, and Austin playwright/actors and non-applying ScriptWorks members Joe Hartman and Cyndi Williams.
The Random Acts of Magic scripts were written by:
Rita Anderson, Kirk German, Carolyn Kennedy, Max Langert, Briandaniel Oglesby, Sarah Saltwick, Samuel Vaughan and Cindy Vining.  The plays will be performed by an ensemble of actors including  David DuBose, Marie Fahlgren, Joe Hartman, Gina Houston, Matrex Kilgore, Jenny Lavery, Noah Martin, Lori Navarrete, Zac Thomas, Robin Grace Thompson, and Minerva Villa. They'll be directed by Lowell Bartholomee, Carolyn Kennedy, Linda Nenno, Sharon Sparlin and Lily Wolff. Designers for the project are Natalie George, Jessica Giilzow, and Jason Newman.