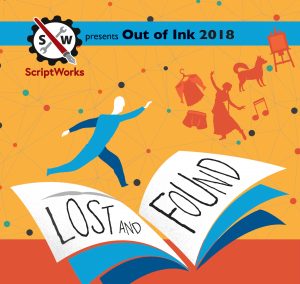 ScriptWork's 20th Annual Ten-Minute Play Showcase
Hyde Park Theatre, 511 W. 43rd St.
April 26-28 and May 3-5, 2018 at 8 PM
Tickets:  $16 general admission, $14 students/seniors/ScriptWorks
April 26 is a Pay-What-You-Wish preview
RESERVATIONS/INFORMATION HERE
Mementos of long-lost loves, articles of clothing, a painting, and the brain of a deceased president are a few of the lost things to be found in this year's Out of Ink production thanks to one of the three contributed rules or ingredients used to write the plays. ScriptWorks members employed these elements to create their ten-minute masterpieces over 48 hours during the Weekend Fling.
In honor of ScriptWorks' 20th Anniversary Season and the 20th Out of Ink, we enlisted our original rule-contributors to reprise their roles this year. Casting director Vicky Boone, Austin Chronicle Arts Editor Robert Faires, and playwright Sherry Kramer provided the following ingredients:
1) An object lost 20 years ago is found.
2) At least one character must experience a reversal of fortune.
3) The play must include a folk dance.
At the end of the Weekend Fling, the plays were read in a ScriptWorks Salon at the Austin Playwrights Studio.  A selection committee chose eight plays for production in Out of Ink, from the thirty-two plays that were submitted.  The committee was comprised of non-applying ScriptWorks members Stephen Bittrich and Sheila Lynch Rinear, and lighting designer Jennifer Rogers.
The Lost & Found scripts were written by:
Robin Anderson, Martha Lynn Coon, Pelita Dasalla, Ava Love Hanna, Max Langert, Sandy Maranto, Briandaniel Oglesby, and Megan Thornton.  The plays will be performed by an ensemble of actors including David Barrera, Roxy Becker, Karina Dominguez, David DuBose, Matrex Kilgore, Cherry Mendoza, Mindy Rast-Keenan, Jaime Romero (aka Althea Trix), Taji Senior, Nguyen Stanton, Rommel Sulit, and Vincent Tomasino. They'll be directed by Ellie McBride, Christina J. Moore, Rudy Ramirez, and Sharon Sparlin. Designers for the project are Lowell Bartholomee, Pam Friday, and Patti Neff-Tiven.