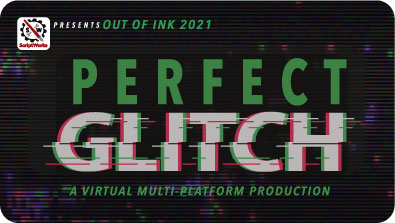 ScriptWork's 22nd (mostly) Annual Ten Minute Play Showcase
Access on your phone, your computer, and your mailbox
May 6-8 at 8 PM, and May 9 at 5 PM CDT and asynchronously
Tickets: Sliding scale $5-$25
Buy Tickets HERE
In a year filled with unintended technical glitches, ScriptWorks is making them purposeful in OUT OF INK 2021: Perfect Glitch. The malfunctions are one of three elements used by ScriptWorks members to create their ten-minute masterpieces over 48 hours during the Weekend Fling last fall.
For this year,  director and technological theatre pioneer, Liz Fisher; actor and director, Matrex Kilgore; and Oregon Shakespeare Associate Artist, Derek Kolluri provided the following ingredients:
1) A phrase used at the beginning and end of the play, the meaning or understanding of which changes given the action that has transpired.
2)  Whispers of the ancestors
3) A technological glitch
At the end of the Weekend Fling, the plays were read in a ScriptWorks Salon online.  A selection committee chose eight plays for production in Out of Ink from the thirty plays that were submitted.  The committee was comprised of LizFisher; light designer and producer, Natalie George; and non-applying member Jelisa Jay Robinson.
For this year's virtual production, members were further challenged to write transmedia or multi-platform plays, meaning plays written to be delivered on two or more platforms, at least one of which must be networked. The result is a collection of work that will be delivered via mail, phone call, text messages, audio content, video, web chat, and of course, Zoom. Half of the plays will be presented synchronously at 8 PM, May 6-8, and 5 PM, May 9th.  Three of the plays will be delivered asynchronously, meaning the audience will be able to access them independently, and one piece has both asynchronous and synchronous content. If that sounds confusing, don't worry! There is an introductory video and instructions are available throughout that explain how to access the plays and the optimal interface for each one.
The Perfect Glitch scripts were written by:
Katherine Catmull, Elizabeth Cobbe, Kirk German, Meg Haley, Andra Laine Hunter, Christopher Krejci, Aneesa Needel, and Megan Thornton.  The plays will be performed by Dora Beaudee, Carl Brooks, Jeremy Rashad Brown, Florinda Bryant, Giselle De La Rosa, Karina Dominguez, David DuBose, Chris Humphrey, Matrex Kilgore, Lana Lesley, Christina J. Moore, Gricelda Silva, Julia Smith, Minerva Villa, Johanna Whitmore, Cyndi Williams, and Veronica Williams.  They'll be directed by Natalie George, Andrea Hart, Liz Fisher, Matrex Kilgore, Ellie McBride, and Christina J. Moore. Designers for the project are Lowell Bartholomee and Natalie George with technology advising and wizardry from them, Liz Fisher, and Tim Thomas.