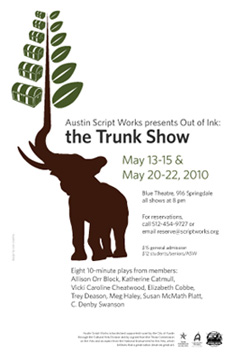 Austin Script Works presents
OUT OF INK: The Trunk Show,
the 12th annual showcase of 10 minute plays
May 13-15 and May 20-22, 2010
Blue Theater, 916 Springdale Rd. (map)
all shows are 8 pm
May 13th is a Pay-What-You-Wish preview
$15 general admission
$12 students/seniors/ASW
For reservations,
call 512-454-9272 or
email reserve-at-scriptworks.org
Elephant trunks, tree trunks, car trunks and travel trunks are all part of the wheeling, dealing, and healing in this year's Out of Ink. Eight plays were selected for production from submissions created during a 48-hour writing retreat, called the Weekend Fling. During the Fling, writers are given three "ingredients" and two days to write their hearts out and create a ten-minute play.
This year's ingredients were:
1. Write a "Trunk Show." In other words, the contents of the physical world of the play must be contained in or represented by a trunk or several trunks….or an elephant trunk, or a tree trunk…

2. The play must include these four actions:

something must be sold
something must be traded
something must be given
something must be refused

3. The play must contain a "healer."
At the end of the Fling, the plays were read in an ASW Salon at the State Theater. A selection committee picked eight of the plays to produce in the Out of Ink Festival. The selection committee included NY dramaturg Megan Monaghan, and non-applying members Monika Bustamante and Kirk German.
Following the May 14th performance, there will be a public response session with Gary Garrison, Executive Director of the Dramatists Guild and author of Perfect Ten: Writing and Producing the Ten Minute Play and A More Perfect Ten.
The Trunk Show scripts were written by: Allison Orr Block, Katherine Catmull, Vicki Caroline Cheatwood, Elizabeth Cobbe, Trey Deason, Meg Haley, Susan McMath Platt and C. Denby Swanson.
The plays will be performed by an ensemble of actors including Monika Bustamante, Mick D'Arcy, David Dubose, Anne Hulsman, Michelle Keffer, Christopher Loveless, John McNeill, Rebecca Robinson, Robin Grace Thompson and Jacob Trussell.
They'll be directed by Wendy Bable, Lowell Bartholomee, Christina J. Moore and Sharon Sparlin with dramaturgy by Kristin Harrison and Ellie McBride.