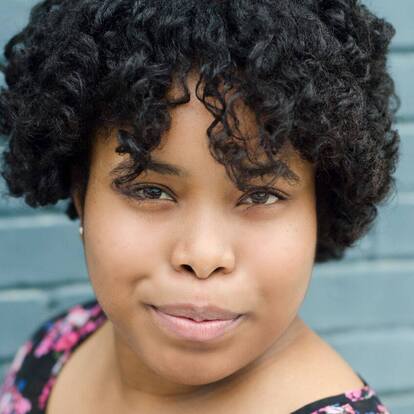 A Dramatis Personae workshop with Jelisa Jay Robinson
Tuesday, June 20th, 7:30-9:30 PM
Online
You have had an idea for ages.  You mention it at parties, you tell it to your kids, but you have not put pen to the page.  BUT YOU WANT TO.  This generative workshop with prompts and activities that will help you get words on the page, and plan time to continue your story.
Jelisa Jay Robinson is a Black American playwright from Houston, Texas.  Her plays include SHE'S ONLY HAPPY ON THE WEEKENDS,  THE STORIES OF US, FAE AND PACIENCIA, DELIVERY and WE BOTH SUCK OUR TEETH (ScriptWorks Groundwork Grant).  Her work has been developed and/or presented at Mildred Umbrella (Houston),Sandrell Rivers Theater (Miami), African American Shakespeare (San Francisco), The Billie Holiday Theatre (50in50), Fade to Black (Houston), Teatrx (Houston), 14/48 Theatre Festival (Austin), Austin One Minute Play Festival (Austin), the Austin Latino New Play Festival, Teatro Vivo (Austin), Now Africa Festival (New York), The Black and Brown Theatre (Detroit), The Rec Room (Houston), the Echame Un Ojo Festival (commission), Fornes Playwriting Workshop (Chicago), The Black and Latino Playwrights Celebration (San Marcos), The Landing Theatre (Houston) and Vision Latino (Chicago).
She is a fellow at the Citadel Playwrights Group (2021), a semi-finalist for semifinalist for the Bucharest Inside the Beltway Virtual Residency (2021), a finalist for La Mansion Baldwin Writers Residency in France (2020), a Bay Area Playwrights Festival Semi-Finalist (2020), a finalist for the Seattle Public Theatre New Play Prize (2017), a writer in the Rec Room Writers Group, a two time Fulbright Alternate and an alumni of the Fornes Playwriting Workshop where she worked under the tutelage of Migdalia Cruz.
Jelisa has held residencies with Vision Latino Theatre Company (Chicago), the National Playwrights Retreat (Colorado) and Texas State's Black and Latino Playwrights Celebration.   She is a theatre educator who has taught high school and elementary theatre. Jelisa has hosted various writing workshops for organizations like Sisters Only Language Summit, Clinton Global Initiative University, University of Houston-Downtown, Texas State University, University of Texas-RGV, and Sovereign Noir's Black Women Virtual Writers Conference.
Jelisa also works as a Dramaturg on projects that deal with the African diaspora and identity.
Jelisa is a proud member of the Dramatists Guild, ScriptWorks, Artist Inc. and a sister of Kappa Delta Chi Sorority, Inc.  She also leads a writers ministry called Light Write.